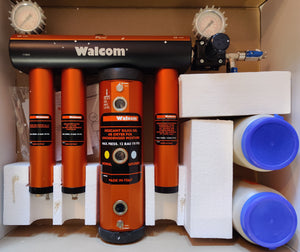 Motivated Painters
Walcom Fsrd4 Air filtration
Sale price Price $1,850.00 Regular price $1,900.00
FSRD 4
A modular filter system ideal for use in the painting booth.
Central body: anodized aluminium NON-HEATED
Composition
Pre-filtering element in sythentic fibre for the elimination of condensation. Automatic discharge
Oil-separating filter for the elimination of residual pollutants. Manual drainage tap.
Silica dryer group to reduce residual humidity in the compressed air. Nr. 3 saturation indicator lights.
Active carbon filter to eliminate all impurities and obtain breathable air. Max oil residue < 0,0003 mg/m3.