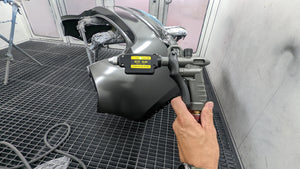 Motivated Painters
Ecogun (EG-2) Ionizing Air Gun
Sale price Price $967.00 Regular price
I have been using this Anti static blower for a while now and I love it! It's a must have!
It is a self-generated ion gun that does not require a separate power cable and does not require a battery and charging station.
It is light weight and efficient for dust and static removal and can be used in plastic injection, car painting, film (sheets), and various cases."
The warranty life of the motor installed inside ECOGUN is 5,000 hours.
If you use it for two hours a day, you can use it for about 6~7 years in theory, but you can conservatively guide it to five years.
PLEASE NOTE INPORT FEES WILL BE THE RESPONSIBILITY OF THE CUSTOMER TO COVER PLEASE LOOK INTO YOUR LOCAL INPORT FEES INFORMATION.